Revolution Slider Error: Slider with alias video_banniere not found.
Maybe you mean: 'new-desing-uk' or 'designv3' or 'usecases-slider' or 'plateforme-presentation' or 'tournage-montage-surmesure' or 'forfaits-tm'
[edgtf_section_title position="center" title_tag="h2″ enable_animation="yes" title="Create videos with professional results in minutes"]
[edgtf_elements_holder holder_full_height="no" number_of_columns="two-columns" switch_to_one_column="" alignment_one_column=""][edgtf_elements_holder_item horizontal_alignment="center" item_padding="0px 10%" item_padding_1280_1600="0 5%" item_padding_1024_1280="0 2%"][edgtf_single_image enable_image_shadow="no" image_behavior="zoom" image="273″][/edgtf_elements_holder_item][edgtf_elements_holder_item horizontal_alignment="center" item_padding="0px 10%" item_padding_1280_1600="0 5%" item_padding_1024_1280="0 2%"][edgtf_section_title position="" title_tag="h2″ enable_animation="yes" text_tag="p" text_font_weight="" title="Events" text="A majority of employees say they are not very involved in their companies. Forget extension emails and boost your company's internal communication with Ginger. The videos will broaden the visibility of your internal and external activities. With Ginger, effectively communicate information or an event to your employees or customers in a matter of minutes." text_color="#ffffff"][/edgtf_elements_holder_item][/edgtf_elements_holder]
[edgtf_elements_holder holder_full_height="no" number_of_columns="two-columns" switch_to_one_column="" alignment_one_column=""][edgtf_elements_holder_item horizontal_alignment="center" item_padding="0px 10%" item_padding_1280_1600="0 5%" item_padding_1024_1280="0 2%"][edgtf_section_title position="" title_tag="h2″ enable_animation="yes" text_tag="p" text_font_weight="" title="Launching a product on the market" text="64% of users are more likely to buy a product after viewing a presentation video on the Internet. Increase the chances of your product being shared on social networks thanks to video. With the Ginger editing solution, you can transcribe the identity of this product as you wish, without even going through a production company. Posting a video on a site also increases the SEO of the site and therefore increases the visibility of its product." text_color="#ffffff" holder_padding="20px 0″][/edgtf_elements_holder_item][edgtf_elements_holder_item horizontal_alignment="center" item_padding="0px 10%" item_padding_1280_1600="0 5%" item_padding_1024_1280="0 2%"][edgtf_single_image enable_image_shadow="no" image_behavior="zoom" image="282″][/edgtf_elements_holder_item][/edgtf_elements_holder]
[edgtf_elements_holder holder_full_height="no" number_of_columns="two-columns" switch_to_one_column="" alignment_one_column=""][edgtf_elements_holder_item horizontal_alignment="center" item_padding="0px 10%" item_padding_1280_1600="0 5%" item_padding_1024_1280="0 2%"][edgtf_single_image enable_image_shadow="no" image_behavior="zoom" image="268″][/edgtf_elements_holder_item][edgtf_elements_holder_item horizontal_alignment="center" item_padding="0px 10%" item_padding_1280_1600="0 5%" item_padding_1024_1280="0 2%"][edgtf_section_title position="" title_tag="h2″ enable_animation="yes" text_tag="p" text_font_weight="" title="LinkedIn" text="Choose an effective recruitment strategy with powerful videos. Present your company dynamically and recruit the best talent on LinkedIn by posting the videos you have created with Ginger." text_color="#ffffff"][/edgtf_elements_holder_item][/edgtf_elements_holder]
[edgtf_section_title position="" enable_animation="yes" text_tag="" text_font_weight="" text="Ginger is a video editing and management plateform
Ginger can help you book a video professional to assist you on your films.
You can book a professionnal below. " text_color="#ffffff" text_margin="20″]
Without Ginger
With Ginger
Photos and videos storage
Solutions
Storage on hard disks, ftp and drive in the cloud, or on local networks.
Users create collections with metadata.
Consequences
Loss of masters, rushes are not stored. Need to start from scratch for each cloud library project.
Management and consolidation of photo, video and rush assets over time, worldwide. Possibility to reuse images, upload videos, quickly find a video or photo with any device, at any time, in any place.
Without Ginger
With Ginger
Ongoing projects management
Solutions
Working with an agency or a freelance
Projects are in the cloud, which allows users to work on them in different locations, at any time of the day and make their own changes. Possibility to find a clip by keyword/face, possibility to do subtitling and automated translation. Possibility of using templates that lock the visual identity of a video collection.
Consequences
Need to contact a service provider for any modification of the project, then to see the consequences, in order to progress on another modification... Invoicing of video versions in each language.
Saves time, makes it easier to see the rendering after modifications, and allows you to work in parallel, anywhere in the world. Ease of obtaining pre-release approvals just by giving the name of the project. Multi-language versions available with automatic subtitling and automatic translation.
Without Ginger
With Ginger
Diffusion
Solutions
Contact the agency or free lance to obtain the master, upload and then distribute internally or externally.
Distribution from the platform. Centralization of broadcasts. Possibility to have a dashboard of the analytics of all videos. Ability to replay in one click.
Consequences
Waste of time in interaction, loading, unloading, no memory of broadcasts, analytics, no dashboard of the different video broadcasts.
Global monitoring of posted videos. Vision of performance. Tracking of clips used, users.
Without Ginger
With Ginger
New projects & editing existing videos
Solutions
Contact an agency or a free-lance.
Reuse of existing projects to set up a new project. The rushes are stored, ready for a new use.
Consequences
Billing, need for briefings, follow-up
Saving time, autonomy, possibility to go back up for each new use, to adapt the videos.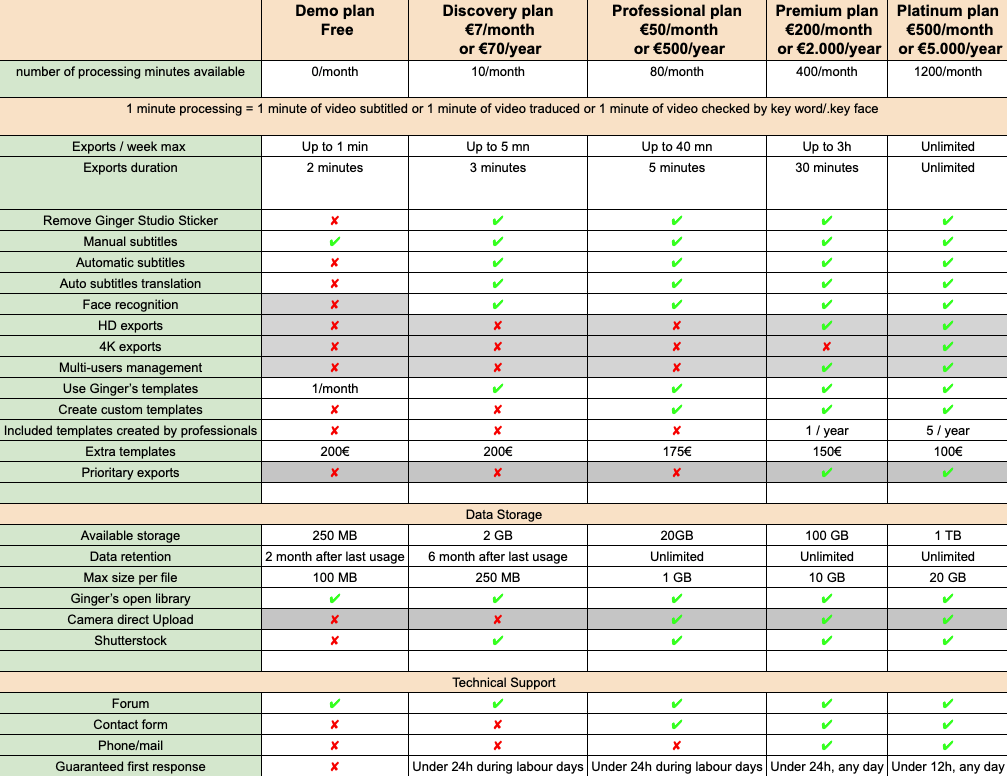 Contact us for a free try of Ginger :